The Importance of Using the Right Forage Tests
Today, you can test the efficiency of every aspect of your farm, from the production of the cows to the tractor battery. Performing these tests gives you the peace of mind that things are running smoothly.
This begs the question, "How often are you testing your forage, and are you using the right test to evaluate it?"
Your nutritionist probably tests your forage every so often to make adjustments in the ration when there is a change of silage bag, silo, or pile. Testing ensures the nutritionist can reformulate the ration if anything significant has changed.
Most likely, your nutritionist will do an NIR test to get the results. It's an inexpensive test with a quick turnaround time. By choosing this test, they can get your results and adjust your ration as soon as possible. It provides value in helping your nutritionist get a general idea of your silage so they can make management decisions as far as your ration goes on your farm. Still however, it is not an extremely accurate test.
An NIR test fails to show in-depth results. For example, when it comes to evaluating one variety to the next, you will see minimal deviation of NDFd in an NIR test. The minimal deviation is not ideal because NDFd can be one of the most significant differences, variety to variety. There are other factors you may use to determine what is right for your farm, but one of the main limiting factors in the diet usually comes down to NDFd.
If you are looking for another option to get a significant variance in your results and look at the nuts and bolts of your feed, you can turn to a wet chemistry test. Most people and companies do not use this because it does cost more and can take one to two weeks to perform.
At Prairie Estates Genetics, we have been using wet chemistry to evaluate the quality of our varieties and competitors on all the farms we work with for over 20 years. We cover the extra cost, so our farmers don't have to. At chopping, we grab samples and send it in for our farmers to give them an exact look at what their feed is. Just like you wouldn't want to assume your tractor battery works, we take this extra step, so there is no guessing when it comes to your feed for the rest of the year.
You have one chance at making the feed that you will have to utilize for the entire year. Using wet chemistry helps us evaluate how every variety in our lineup is performing in an extremely wide variety of situations and environments to guarantee that you will have the best feed year after year.
But we don't stop there. We also do scissor clippings in the spring to assist our customers with their alfalfa to make sure we are getting the best quality out of every crop. At Prairie Estates Genetics, we provide more than seed and delivery; we provide Next-Gen Service. We do our best to give you peace of mind that every year you will have high-quality, consistent feed, and we achieve that by working with you and using the right test for the right job.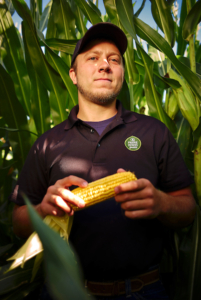 Matt Blum
Forage Manager
Prairie Estates Genetics