Employee Spotlight: Carl Key, Senior Forage Manager
Prairie Estates Genetics is comprised of employees with high levels of competence and experience. This expertise is paired with an excellent line of dairy seed formulated specifically for dairy cows, provides complete management of a dairy farm's forage program. Recently, PEG hired long time agronomist and forage manager Key. With the addition of Carl to the team, PEG now features five full-time forage managers.
Background
Key was raised on a dairy farm and thus has been involved with agriculture for 50 years. He owned and operated a custom application business, applying fertilizer, herbicides, and crop protection chemicals. He is a Certified Crop Agronomist (CCA) and an expert in the science of soil management and crop production. Key has established multiple agronomy programs and is continually scouting fields, pulling soil and tissue samples, and conducting forage research.
His other accomplishments include:
Being CEO of a farm CO-OP
Heading forage research for a genetics company
Staring a forage research and marketing company
Helping build the first database and screening program for Brown Mid-Rib (BMR) hybrid corn silage
Having the first large herd milk trial on BMR silage
Developing a Rumen model for evaluating and screening corn silage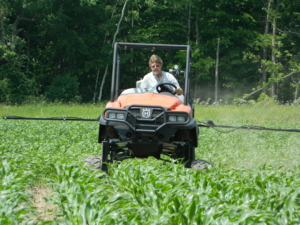 PEG Senior Forage Manager, Carl Key spraying different fertilizers on silage plots
to analyze hybrid response based on tissue samples and forage analysis.
Developing A Forage Management Program
With this extensive experience, Key is always looking at the latest developments in animal nutrition and agronomy. This focus allows him to be proactive and develop new testing methods and protocols. Carl states, "My goal is to know what the customers' needs are before the competition and think out of the box." Key says, "I find out what agronomy and feeding programs are in place and what the customer is looking for from his forages (many times, it is not just about yield). Then it's time to bring everyone together that could impact the decision-makers, i.e., Herdsman, Crop Manager, Agronomist, Consultant, Nutritionist, and Vet. I then supply the customer with local and third-party data in a comprehensive but yet practical format based on his needs."
Customer Training
From this initial approach, Key develops a training program saying, "Customer training is vital. I review many topics, including all forages, animal diet and production, planting depth, populations, fertility program, maturity, harvest schedule, chop length, and storage procedures. My goal is to be the customer's primary source of information and provide all the tools to keep the customer profitable."
Key has a proven approach for customer success. Prairie Estates Genetics offers the best expertise and guidance by having selected top-notch forage managers as part of the team.