Shrinking Margins…How Can Forages Help?
Corn and soybean cash prices are up 60% since early August. Milk prices have slipped nearly 30% since November 2020. Grain prices are expected to stay high through the 2021 harvest season. Class III milk for the next six months is expected to range from $15.39 in February to $17.39 in September. Diet inputs like soybean meal, cottonseed, distillers grains, and other commodities have also been rising. Unless dairy farmers locked in their milk and commodity prices a few months ago, they are potentially looking at tighter margins. Since we cannot control the milk and commodity prices, we can focus on what we can control: forage quality.
YIELD & FORAGE QUALITY
To maximize profitability in forage production on our dairy farms, it is important to consider quality and yield. Both are important. We have worked with many farms that have achieved top-notch quality with excellent yields year after year.
Yield
Recently, more clients have questioned whether BMR hybrids are worth the investment. BMR hybrids require more input costs, including seed cost, fertilization, and fungicides. They also prefer being on your best ground. They are more sensitive to certain pre- and post-herbicides. They tend not to handle stress as well, and even on your best ground, you are apt to sacrifice up to 30% yield drag. Rarely will BMR hybrids yield like conventional genetics, especially if you compare them to top-end elite corn hybrids. One of the producers who has worked with PEG for over 15 years, for example, had always grown part of their acres as BMR silage. After changing from BMR to PEG acres, the dairy measured a 15-18% growth in yield, and given that they plant about 500 acres of silage a year, this change results in a yearly gain of about 90 acres. If grain prices are locked for these 90 acres and growth of 60 bu beans or 220 bu corn is assumed, this change results in an extra $75,000-$100,000 in revenue for the dairy.
Quality
Secondly, we evaluate quality and its role in developing a diet. Four main factors go into producing quality corn silage: Starch Content, Starch Digestibility, Lower Fiber, and Excellent Fiber Quality. Grain hybrids typically have a lot of starch but poor fiber and starch digestibility. BMR has excellent fiber digestibility but lower starch and typically poor starch digestibility. It is imperative to build a consistent high forage diet by finding the balance between high fiber digestibility and a good starch load that is digestible!
Fiber and Starch + Digestibility
Both fiber and starch are carbohydrates, which are a cow's primary source of energy. We need a tool to measure the amount of available carbohydrates that we can grow on every acre to be successful. Our other Senior Forage Manager, Carl Key, has been working on this for many years. He developed a program called Rumen Dynamic Digestible Carbohydrates (RDDC) which allows us to take both the starch and fiber components of corn silage and measure those components' availability. PEG has been working for many years on numerous farms to produce elite silage genetics that yield and provide excellent quality; RDDC is another tool we offer to our customers that is unique to the industry.
When we plug this year's wet chemistry into the RDDC program, these are the results: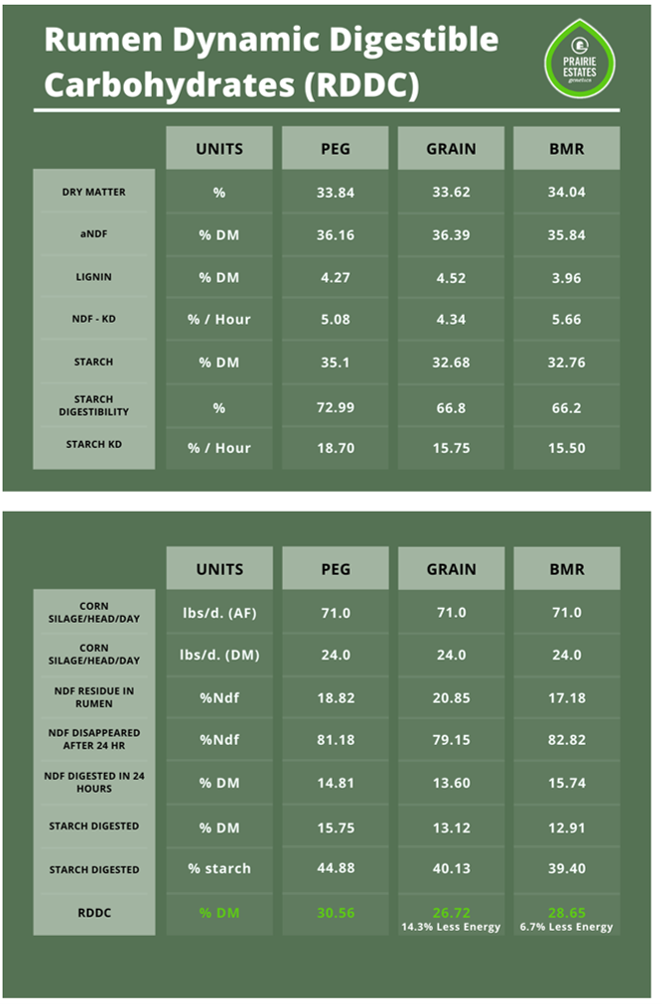 After we put some values to the milk we are shipping and the additional commodities we would need to purchase to make up for the Rumen Dynamic Digestible Carbohydrates, the numbers would look like this. This calculation is based on a 1000 cow dairy over 365 days. Ground corn and soy hulls were used to make up the missing carbohydrates.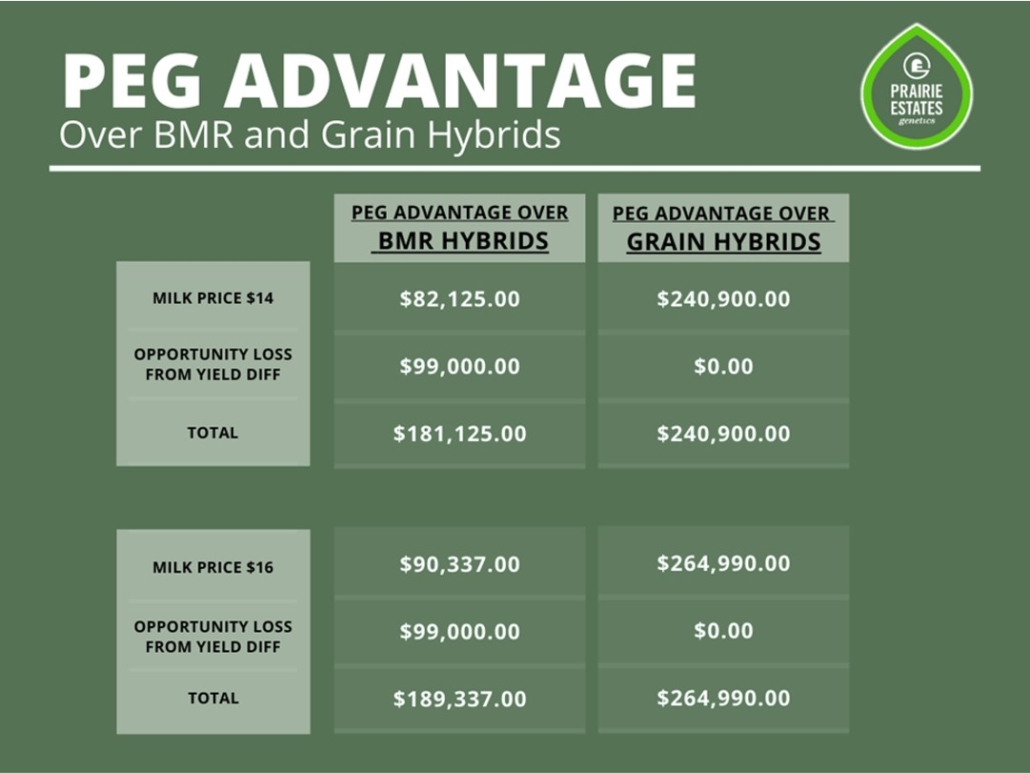 Prairie Estates Genetics accomplishes the ideal balance of yield, amount of digestible starch and fiber that is as close to the industry standard of BMR digestibility as possible. PEG accomplishes this through specific genetic selection and service, unlike any other company. From Wisconsin, to Texas, to North Carolina and Colorado, this technique has widespread utility.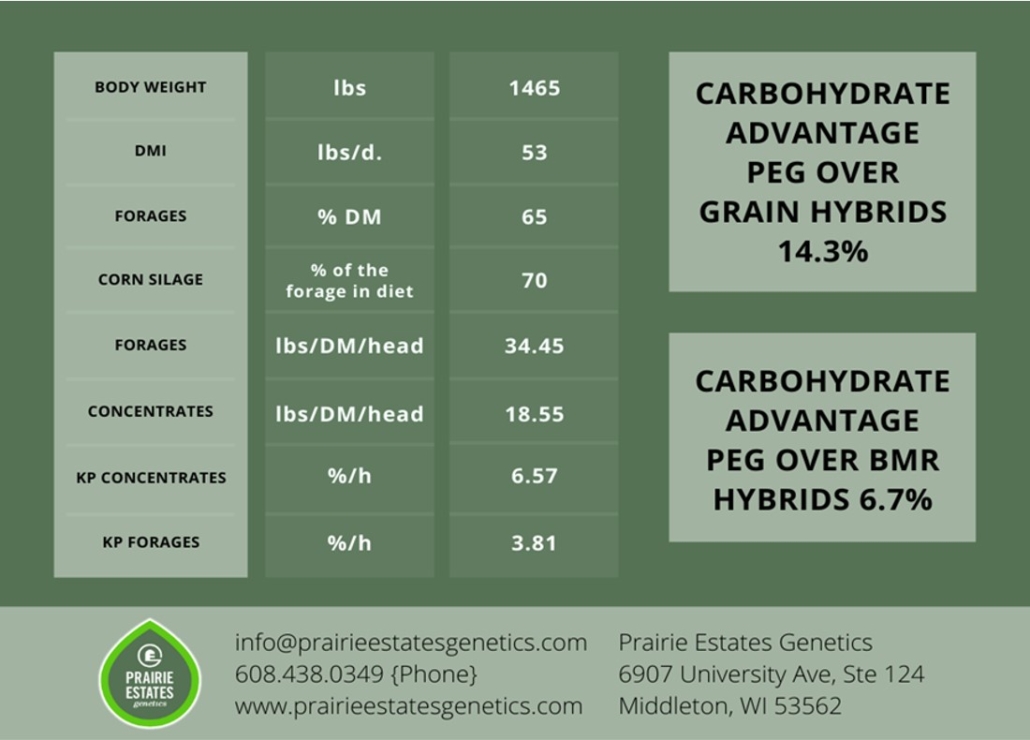 Physical evidence is convincing. Your cows won't lie to you. Give PEG a try and let your cows convince you.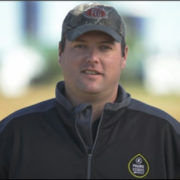 Mike Kabat
Senior Forage Manager
Prairie Estates Genetics